Impossible to believe that Christmas is only a month away.  Shopping online has been my go to for almost a year now for everything.  I have made a concerted effort  to shop with small businesses and Individuals who are Makers.  Shopping small helps keep local economies going.  I appreciate so much how many customers have shopped with me this year.  It enables me to shop with local folks in my town and online.  Awesome benefit, they reciprocate and Shop small with Me.
I will be adding some wonderful pieces that will be perfect for the Christmas Holiday season.  All of us must make our decisions about how we will celebrate be it in person socially distanced or via digital media.  In either case we want to look festive, we want to look our best.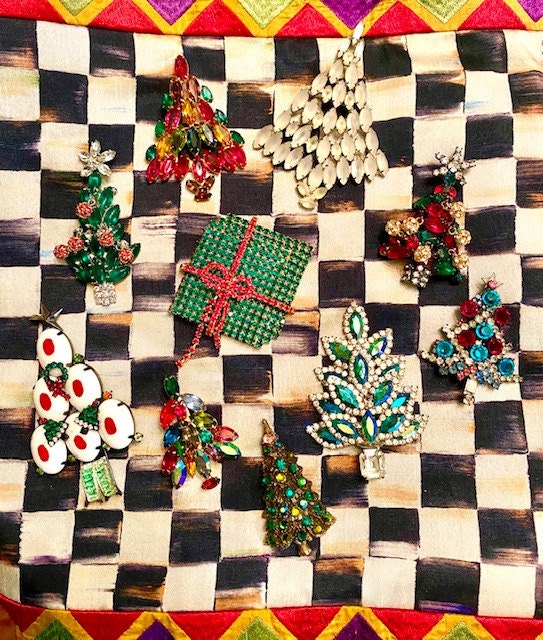 When you are visiting and celebrating Virtually, here are some tips that may help you to look Fantastic. 
Camera View
Keep your screen at eye level or slightly above.
Whether seated or standing, having your phone or computer at eye level is key. According to the experts, "The eye-level part is really big. Your natural instinct is to push the screen back on a laptop, and that's when you get that up-your-nose look." As for phones, be sure to lean them up against something sturdy or better yet invest in an adjustable stand. If using a stand check it by making sure to keep yourself at eye level to avoid unflattering angles. 
I always try to put mine a little above eye level as a down angle is more flattering.  Practice ahead of time to see how you look, You will be so glad you did.  A little effort goes a long way. Feeling confident about how you present yourself is part of elevating your virtual communication experience, whether it's on a personal or professional level. If you're looking for a quick fix, Zoom also has a touch-up feature available that adds a soft filter to your video.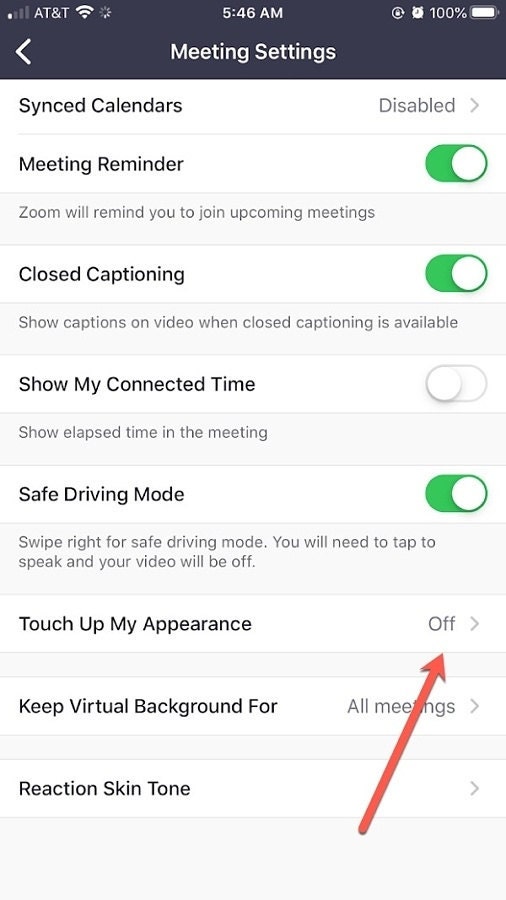 Backgrounds
Choose a great background, you don't want anyone to see that stack of magazines you have been looking through, or your laundry basket sitting behind you.  You can go 2 ways, Go Neutral...that is find a sort of blank wall or hang a neutral background.  Or You can use a decorated area of your home for your visit.  Maybe sit a chair in front of your Christmas Tree or sit at your dining table and broadcast with your centerpiece in a bottom corner of the photo.  Either way you will feel more comfortable if you know your background is not distracting.  ZOOM even has Virtual backgrounds that you can use.  
Lighting
Check your Lighting.  You should have  a Window or Lamp that has indirect light since the filtered light is more complementary than overhead lighting and less harsh than direct sunlight or an overhead bright light, avoid flourescent if possible.
MakeUp
 When applying your makeup, keep in mind that it's easy to appear washed out on camera. If you ordinarily wear makeup, it's worth putting on just a little more. In the last couple of years, I learned that my usual makeup wasn't cutting it; I didn't have on enough makeup. The main thing is not a lot of color — you want contrast with not a lot of red, use more neutral shades. Experts suggest using a good bronzer for just the right amount of contour, which helps define your facial features and keeps you from looking too pale. Deeper brown/natural lipstick and a slightly darker brown tone eye shadows are two other quick and easy ways to brighten your face without looking overdone.  Again, look at yourself through the cameral lense when you are done, use the camera to make adjustments to your look.  PS, don't forget your nails , You can buy KISS stick on nails for a perfectly manicured look.  I have used them and they are amazing...they actually last about a week if you are not scrubbing floors or digging in the garden.  *Tip, if they get scratched a coat of clear polish will make them look like new. I use Sally Hanson Gel top coat.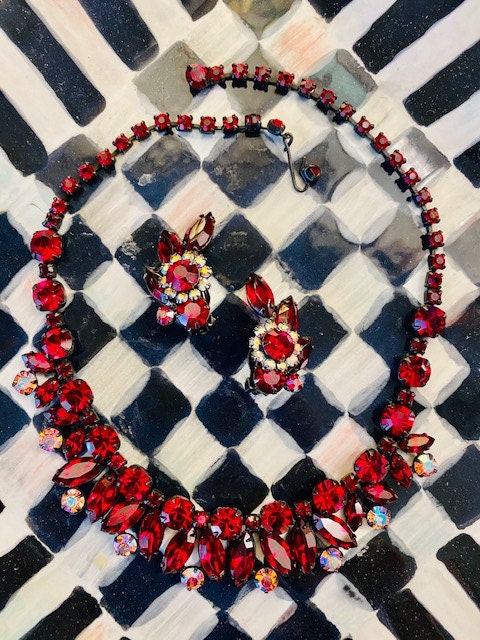 Clothing and Jewelry
We have all seen the commercials depicting folks at ZOOM meetings only dressed from the waist up.  Don't do this...Get yourself dressed as if you were meeting in person.  I really think it makes the experience better if you are acting as if its an in person meeting. It will make you feel more natural in this unnatural time we are living through.  You will really want to make it count no matter who you're speaking with, your best friends will appreciate that you made an effort for them and your business associates will respect your professional appearance.  So,  Whether you're dressing for a casual virtual cocktail toast with a special friend or a formal conference call with clients, choose flattering outfits that promote comfort and confidence. Rich deep colors and simple lines,  For example that casual virtual cocktail party is perfect for your black Leggings and a pretty tunic top accessorized with some appropriate Holiday or Seasonal jewelry.  A Big Christmas brooch and earrings will make your party more festive.   Necklaces and bracelets are lovely too, but sometimes long necklaces can direct the eye away from you.  Stick with a shorter choker type necklace. Again, practice on camera with your jewels to get the full impact of how they look.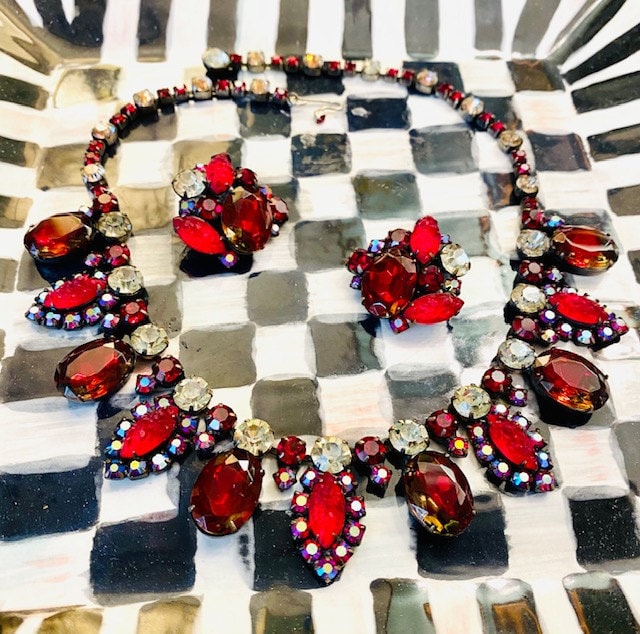 Sit or Stand?
You will have to choose to sit or stand.
Some experts feel standing is more flattering for virtual parties and festive visits.  Standing does give you more confidence and a more attentive appearance for business meetings.  Try both to see what suits you.
The length of the event will also be a factor in this decision, you don't want to be walking around talking or moving...that is how those unflattering angles and backgrounds can slip in. In either case it is important to  maintain good posture and get close enough to be easily heard and understood.  
Talk to the Camera
Remember to look at the camera when you are talking, not the person or people you are talking to.  It is a sort of juggling act, like reading subtitles.  I had a televisit last month with a Dr. who was looking down all the time, not looking at me!  So distressing.  You want to make eye contact or the illusion of eye contact, that can only be accomplished by looking at the camera.  Try a test run with a friend, they will be happy to tell you if you are making good eye contact, you can help each other!
I hope these will help you with your Holiday Virtual Meet Ups.
Don't forget if you need help choosing some fab jewelry I am usually available for messaging.  If you have something in mind, I may have it in my inventory.  My online store only has about 10% of my inventory.  I may have something in stock that will meet your look and price point. 
Check out my selection of Christmas Jewelry and this year I am featuring Faux Ruby Jewelry as the trend for the 2020 Christmas Season Jewelry.
OH!  I almost forgot, here is a coupon for all my readers
Use the link below or SHOPSMALL2020  to get 30% off any order over $150.  
All items above are available and will be online this week or direct message me for a special listing.
https://www.etsy.com/shop/KimLovesVintage?coupon=SHOPSMALL2020