" It's very Clear, our love is here to stay Not for a year but forever and a day "  
 George and Ira Gershwin were so spot on!
We absolutely love our Clear Vintage Rhinestone Jewelry, it has become a staple in every jewelry box.
Clear rhinestone jewelry is a solid Go To for any color clothing.  Winter, Spring, Summer or Fall you can add Clear rhinestone jewelry to complete the styling of every outfit.  Clear is always appropriate for formal occasions and very popular for wedding jewels since bridesmaids dresses are generally a stand out color.  In Winter you can brighten up your warm coats and sweaters and even scarves by wearing a couple  of clear brooches in a grouping for a special occasion or everyday wear on a Denim Jacket.  Spring time is also perfect for clear, it lightens up your outfit especially florals! Spring is the perfect time to wear a clear rhinestone bracelet.   Summer, well those bright summer colors just need some Sparkle, short sleeves and sleeveless tops are perfect for a Parure and layers of bracelets.  And in the Fall, well Y'all wear your gorgeous fall Olivine Greens and Rust and Browns and add some big clear jewels to reflect those beautiful fall colors.  Don't forget, Clear rhinestones like pearls are ever so flattering for any complexion. 
 I am always available to help style jewelry with outfits, in person or virtually.  The Winter Holidays will be here before you know it and I will be styling outfits for all your Welcome Back to the World Holiday parties this season.  
It all began with Paste...
Paste, heavy, very transparent flint glass that simulates the fire and brilliance of gemstones because it has relatively high indices of refraction and strong dispersion (separation of white light into its component colours). From a very early period the imitation of gems was attempted. The Romans in particular were very skillful in the production of coloured-glass pastes, which copied especially emerald and lapis lazuli. With an increasing demand for jewelry, the number of imitations steadily increased. In 1758 the Viennese goldsmith Joseph Strasser succeeded in inventing a Colourless glass paste that could be cut and that superficially approached the sparkle of genuine diamond; the products of this paste are called strass stones.Before 1940 most imitation gems were made from glass with a high lead content. Such glasses were called paste because the components of the mixture were mixed wet to ensure a thorough and even distribution. Colourless paste is commonly formulated from 300 parts of silica (silicon dioxide, SiO2), 470 of red lead (a lead oxide, Pb3O4), 163 of potassium carbonate (K2CO3), 22 of borax (a sodium borate, Na2B4O7·10H2O), and 1 of white arsenic (arsenic oxide, As2O3). Pigments may be added to give the paste any desired colour: chromium compound for red or green, cobalt for blue, gold for red, iron for yellow to green, manganese for purple, and selenium for red.Pastes are softer than ordinary or crown glass but have a higher index of refraction  and dispersion that give them great brilliancy and fire. The cheaper paste imitations are pressed or molded, but, on the better-quality stones, the facets are cut and polished. Molded-glass imitations can be identified with a hand lens, because the edges between the facets are rounded whereas cut glass  has sharp edges. Cut paste stones may be distinguished from real ones in several ways: (1) paste has air bubbles, natural stones do not; (2) paste is a poor conductor of heat, and so paste stones feel warm to the touch; and (3) paste, like all glass, has an easy conchoidal fracture, yielding brilliant curved surfaces particularly on the girdle (the widest part) of mounted stones near the mounting prongs. Other differentiation methods involve hardness (paste is softer than real stones and will not scratch ordinary glass), index of refraction (1.50–1.80, less than diamond at 2.42), specific gravity (between 2.5 and 4.0, depending on the amount of red lead used), and isotropic character (because paste has the same properties in all directions, it shows only single refraction and no dichroism, whereas most natural stones are partially doubly refractive and dichroic). 
Britannica, T. Editors of Encyclopaedia. "Paste." Encyclopedia Britannica, July 20, 1998. https://www.britannica.com/technology/paste-glass-product.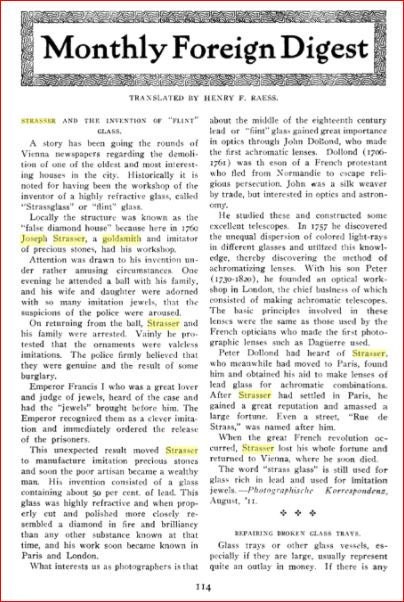 Photographic Times 1912 article on Joseph Strasser
Fast Forward to the 20th Century...
Guest Blogger Ann Mitchell Pitman
 Author of the "Inside the Jewelry Box" book series 
and the infamous Sold Out  "Juliana Jewelry Reference" book has this to say about Clear Rhinestone Jewelry...
"Jewelry designers had to really go the distance when designing a piece of jewelry that would feature only clear rhinestones.  To keep it from appearing bland or uninteresting, the design needed to be exceptional to make the final composition sizzle.  Just about every designer or jewelry company offered selections with only clear stones, from petite to extravagant.  Most of the early duettes featured all clear rhinestones, as did the original pieces sold with Eisenberg dresses.  The Charles Ries Company, who made sterling jewelry marked CR Co. or CRC, had beautiful dainty pins that could easily be mistaken for diamond jewels. Mazer designed some stunning small fur clips with all clear stones which truly mimic diamonds.  Some Mazer bracelet designs feature all clear stones, including the "links" of the bracelet.  They frequently used two different sizes of baguette stones to add that touch of elegance.  They made a full line of gold tone or silver tone with only clear rhinestones, including necklaces, brooches and earrings.   Clear rhinestone jewelry can be either inexpensive or quite valuable, depending on the design and the company who created it. Like most collectors, I prefer designs with colored stones, but I never pass up a lovely piece with only clears. "
Thank You Ann!   Some 20th century examples of clear rhinestone jewelry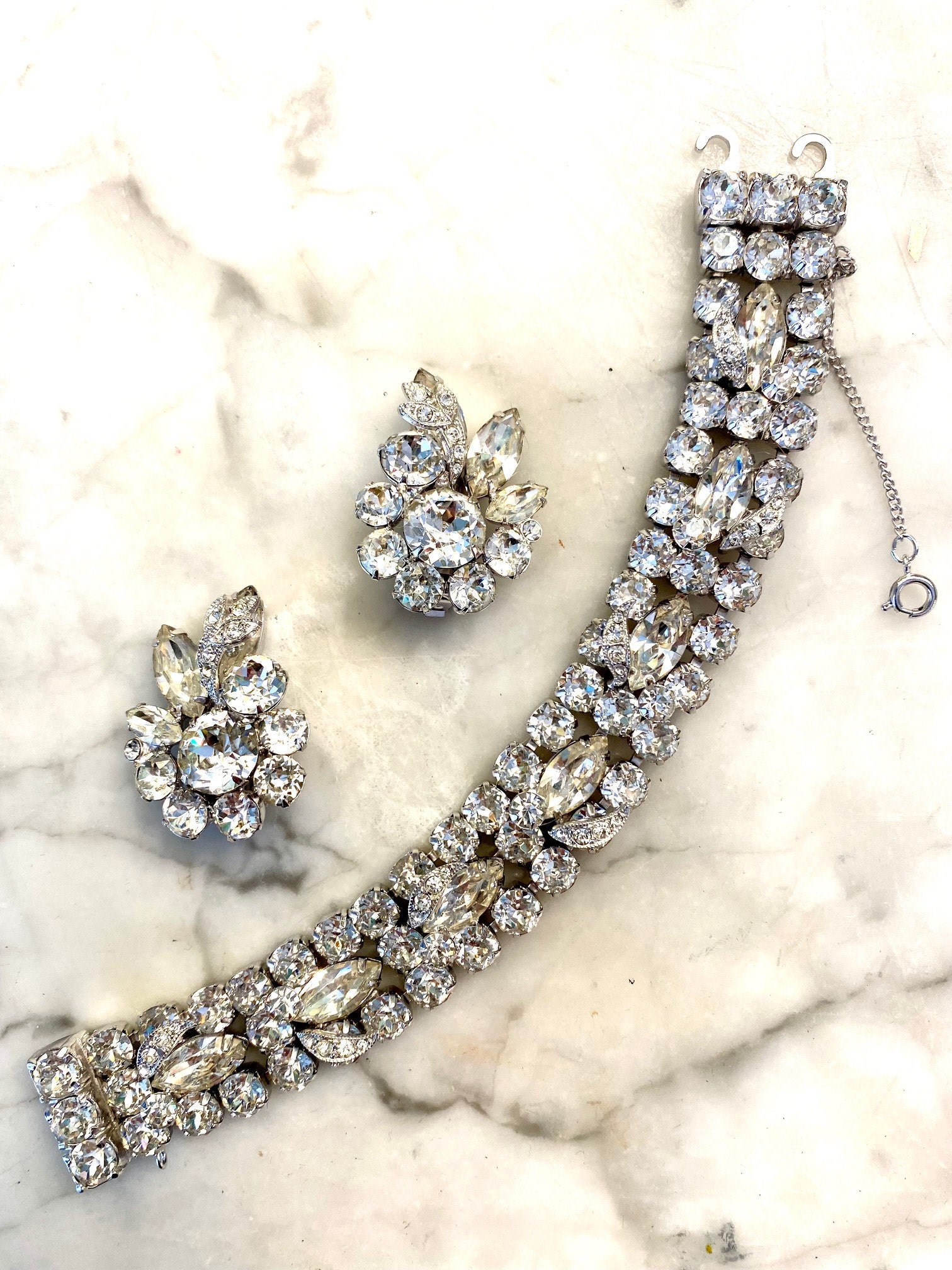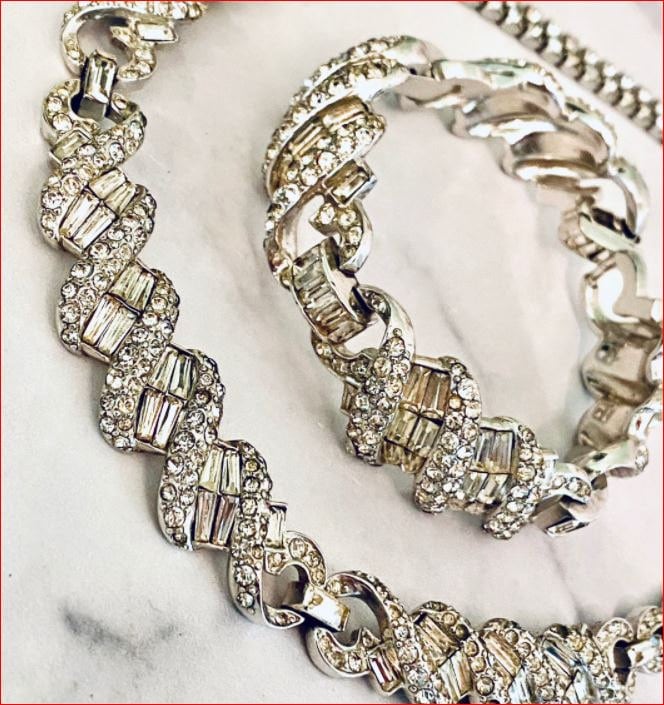 "Everybody made it because it went with everything. All of the original Eisenberg's were clear. " 
Ann M. Pitman Author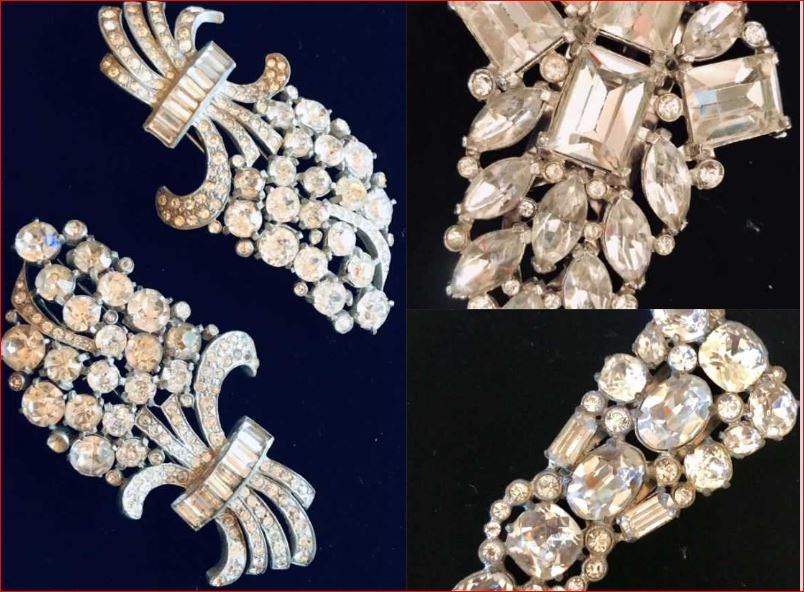 My Personal collection is filled with clears, 
 this blog topic  came about as I recently purchased this fabulous Trifari "Corsage Brooch" which is actually 2 brooches that combine to be worn as one.  When I began my Jewelry History search to find out more about this brooch I was fascinated with the construction and the concept of the convertible jewelry.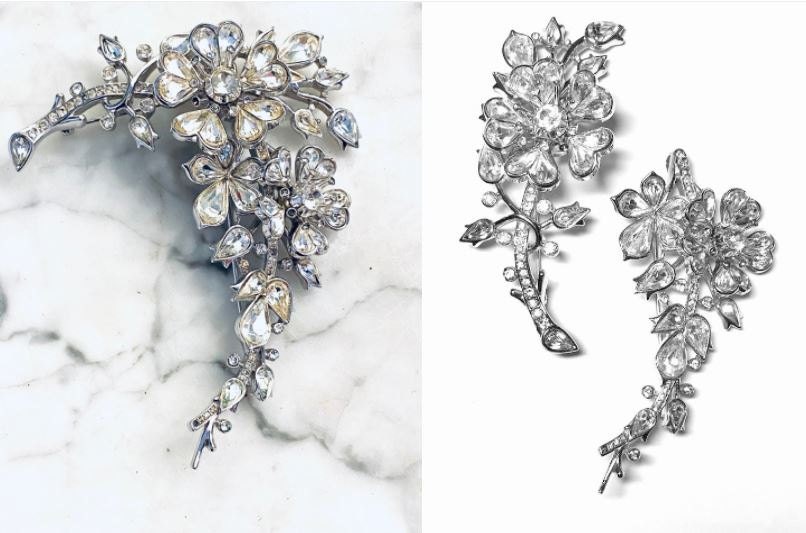 This Trifari was likely inspired by the early French Royal Jewels that had to multi task.  Necklaces, bracelets and tiaras could be made from a single grouping of jewelry, removable pendants and brooches facilitated the transformation.  Such is the case of the  Empress Eugenie's Feuilles de Groseillier Parure
 According to Arthur on the World Jewels Message Board 
The 'parure de groseillier' (currant leaf parure) of the French Crown Jewels was made in 1855 by Bapst for Empress Eugénie, wife of Napoleon III. According to the description made in Bernard Morel's book Les Joyaux de la Couronne de France, the parure included:
- a 'garland', which could be used as a necklace, made of 16 brooches in the shape of currant leaves. Each brooch was detachable and could be worn on its own. The nine frontal brooches and the clasp brooch had 16 "pampilles" (lines of diamond collets) dangling from them. The brooch which is to be sold at Christie's in November is one of these brooches
- a 'tour de corsage' (corsage girdle) made of 29 diamond currant leaves, alternating with large diamond collets, around a central group of three currant leaves centred on a 16.95 carat diamond. This diamond had formerly been mounted on Napoleon I's swords in 1803 and 1812 and on Charles X's hat's cockade in 1824. Large pear-shaped diamonds were hooked to each currant leaf and to each diamond collet. In the whole, this girdle included more than 5000 diamonds!
- a large devant-de-corsage brooch, made at the top of three currant leaves centred around a large 20.03 carat diamond which had been previously mounted on Empress Marie-Louise's diamond hair comb and on the frontal arch of King Charles X's crown. Hanging from this top group are an extra currant leaf and seven groups of diamonds forming currant grapes.
The parure did not include a tiara, a bracelet or a pair of earrings. But of course, Empress Eugénie owned a lot of other diamond jewels that she could combine with the currant leaf parure.
When the Government of the Third Republic decided to sell the Crown Jewels at auction in 1887, it was decided to divide the garland and the girdle into several pieces (the republican authorities probably considered that these jewels were so large and extraordinary that it would be almost impossible to sell them in two single lots). The garland was divided into 8 lots, several of them being bought by Bapst, Garrard or Tiffany. The corsage girdle was divided into several lots, but all of them were bought by Tiffany, who also bought the large devant-de-corsage brooch 

There is so much more information out there, I hope this bit that I have shared will spark your interest in learning and will encourage you to explore the history and context of the vintage jewelry that you love. 
Kim