I love Stanley Hagler jewelry, I own one of his very early 1950's Lariats with the matching earrings.  It is made of pearls and gilt loops that form the lariat. I have had it for years.  A most unusual style, but verified by Ian St. Gielar as Hagler.
I still have it.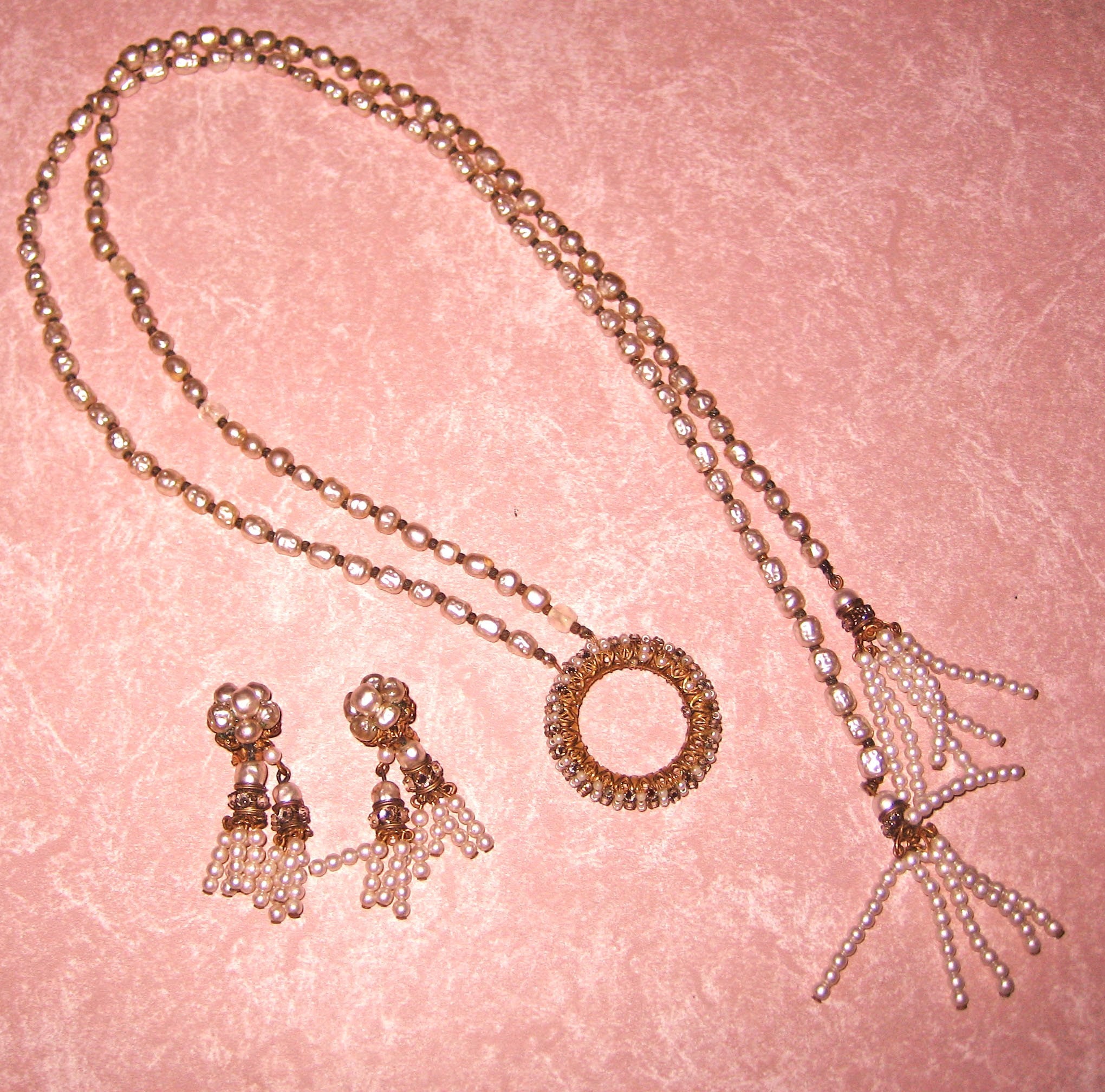 I think around the turn of this century I became aware of the "new" Stanley Hagler jewelry being created by Ian St. Gielar.  I met him at a jewelry convention and we became fast jewelry friends.  I loved that his jewelry combined contemporary design with antique parts.  He used quality material, handblown glass, Swarovski crystals and Russian gold plated brass from the finest producers.  It was regal, it was drippy, it was basically just fabulous!  I told Ian I had purchased some wonderful old pressed glass coral colored cameos many years ago, back in the 70's to be exact and that I wanted a necklace made from them.  I collect cameos, all types and could not pass up these fab loose stones.  He was delighted, he would be happy to make something for me.  I corresponded with him about the styles I like and how I wanted it to be all coral colored, he happily obliged and in just a couple of weeks I received the most beautiful Full Parure  in the mail,  he said it was a gift.  He said he enjoyed so much making it, I was thrilled.  Here it is, so incredible! 
 The Treasured gift I keep on display in my jewelry room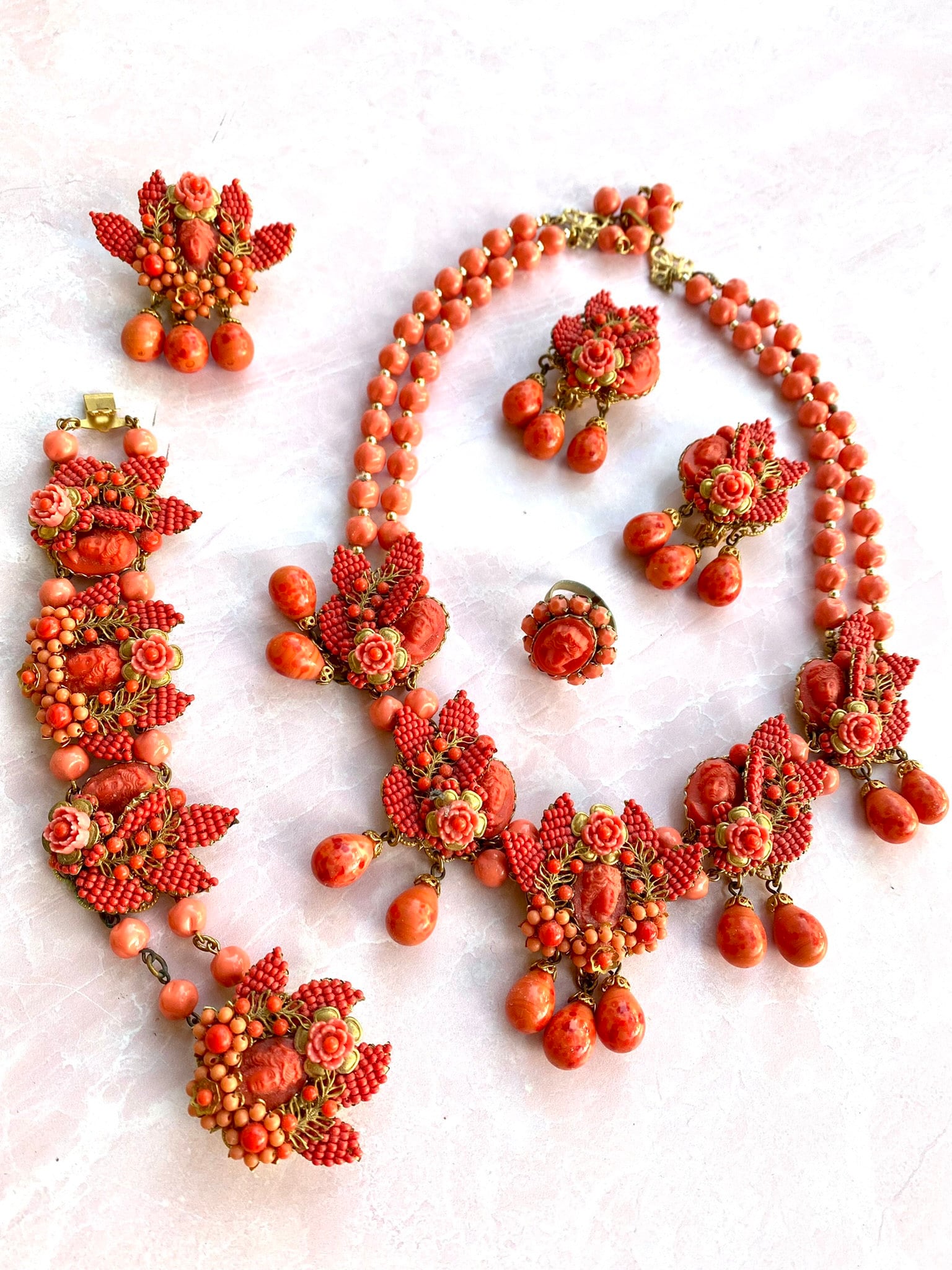 More about Ian...
Ian St. Gielar for Stanley Hagler 
 Ian was born April 30, 1953 in Sanok, Poland.  He spent many years as a young man traveling around Europe before coming to the United States in 1981. 
The Hollywood Florida area was the only home St. Gielar knew in America . 
 St. Gielar loved to travel, almost as much as he loved tennis.  He taught others to play tennis and was an excellent player himself.   Designing beautiful jewelry though, that was the greatest passion of his life.
 In 1989  when Ian St. Gielar came into the Hagler Studio within a few months became Hagler's first ever chief-designer. From the moment Ian started to create his masterpieces for Stanley Hagler back in 1990 he brought volume and festive colors to people around him and the brand itself through his designs.  When Stanley Hagler passed in 1996  Ian continued to create in his Studio, registering the trade mark Stanley Hagler N.Y.C.® and adding "Ian St. Gielar" to all his jewelry. That period the brand became really international with great help from internet exposure gaining desirability and popularity around the globe. 
 It should be noted that  St. Gielar went on to register the name Stanley Hagler N.Y.C. as his business name in 2002. From 1995 onward court and tax  documents indicate that Ian St. Gielar was the legal "heir" to the Hagler name.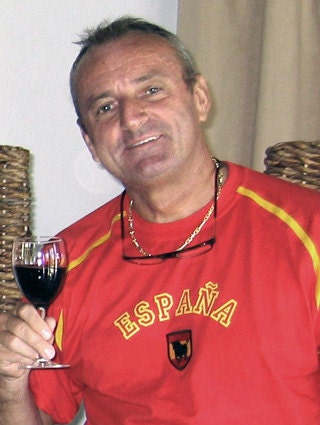 Stanley Hagler was in business from the 1950s to 1996. 
 His clients were the elite from all over the world.  From his earliest creations, owned by the Duchess of Windsor, his jewelry combined contemporary design with antique parts.  He used quality material, handblown glass, Swarovski crystals and Russian gold plated brass from the finest producers.  Mr. Hagler won the prestigious Swarovski Design Award 11 times.
 Ian St. Gielar along with Mr. Hagler created the very first Hagler's Christmas Trees and from there took all Hagler jewelry to another level. 
In the late 80's, Photo below with  Lynn Osher and his chief designer, Ian St. Gielar.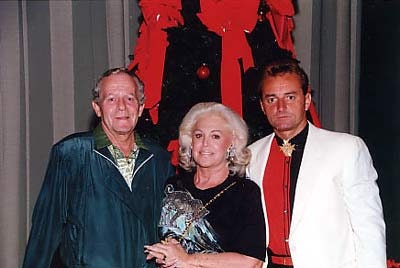 The Miami Herald (FL)
October 1, 1995
Section:
TROPIC
Edition: FINAL Page: 26 Memo:
TROPICAL WILDLIFE SOUTH FLORIDA SPECIES OF DISTINCTION
MICHELLE GENZ Tropic Staff The glass pearls and rhinestones
Ian St. Gielar
uses in his jewelry are often as old as he is. And like him, they have their roots in Europe. Once a year, the 32-year-old Polish-born designer forages through warehouses in Germany and Czechoslovakia, scouting for forgotten glass beads in factories long out of business. Then he sets to work in the small studio of his Hollywood home. Using no machines and not a drop of glue,
St. Gielar's
big hands string beads no bigger than a pinhead onto gold-plated thread. Then he wraps the strings like dewy spider web around filigree leaves, stars and flowers.
A single necklace can take eight hours but sells from $250 to $1,500.
He has become, in four short years, what one prominent dealer calls "the new generation" of collectible costume jewelry designers.
St. Gielar
was director of room service at the Intercontinental Hotel when he met
Stanley Hagler
, last of the great costume jewelry designers of the era of Coco Chanel. Hagler took him on as a protege. Now
St. Gielar
designs jewelry full time. His splashy showpieces have sold to stars like
Whoopi Goldberg
,
Melanie Griffith
and
Morgan Fairchild,
through a chic vintage jewelry shop in Hollywood, Calif.'s, Sunset Plaza.
St. Gielar's
pieces also have sold at
Romanoff in Bal Harbour.
A line of pearls and rhinestones is in a
Tokyo
department store. There are pieces in swank boutiques in
London and Germany
. So far, most of his pieces have been
sold under the name of Hagler, who uses St. Gielar's designs for most of his line.
But when
St. Gielar
meets with buyers from
Federated stores
(the parent company of
Bloomingdale's and Macy's)
in October, he will finally be showing them a line under his name.
"He's entitled," says Hagler. "I think he could knock the market upside down." 
Vintage Stanley Hagler N.Y.C. by Ian St. Gielar jewerly and Vintage Ian St. Gielar jewerly made for Maria Domont. 
 The very First brooch ever designed for Stanley Hagler by Ian St. Gielar  1986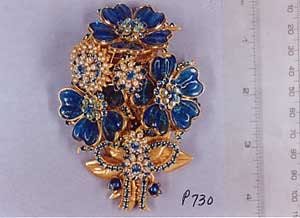 Davida Baron & Lucille Tempesta, co-founders and co-publishers of Vintage Fashion and Costume Jewelry, Spring 1996 Edition, had this to say about Stanley Hagler:"His retro collection is hand made from materials from the 50's and 60's incorporating old-fashioned stones, seed and baroque pearls. His vintage collections usually have an antique gold finish and are designed using vintage baroque pearls. It is rare he will use these baroque pearls in his contemporary groupings."Says Hagler: "As you can see by today's designer's, you don't see the models wearing jewelry. In the past, jewelry has always defined a woman's individuality as well as her taste. Fashion designers, as well as the magazines, should not deter a woman from wearing jewelry that makes her feel beautiful and special." 
Ian St. Gielar's  untimely death
Ian was involved in a car accident in 2007 that prompted a trip to the hospital where he suffered two heart attacks.  It was there on the eighth day of the stay that St. Gielar suffered a second heart attack which proved to be fatal.   He left behind a legacy of gorgeous jewelry designs, worn by stars such as Whoopi Goldberg, Morgan Fairchild, Melanie Griffith and others.  His designs graced many fashion show runways and appeared in numerous fashion magazines, among them such illustrious titles as Elle, Vogue, Harpers and Shine. 
The Corning Museum of Glass includes St. Gielar designs in its collections.  
Also Ian ST. Gielar had been collaborating with well known author and collector Ann M. Pitman(Juliana Jewelry Reference book and Inside the Jewelry Box series) on a book about Stanley Hagler and Ian St. Gielar the real story.  
 Ian St. Gielar is survived by his wife Valentina.  Collectors and clients alike were  pleased to know that Valentina, who worked intimately with him for over 8 years, continues his work under the name "Ian Gielar Studio," according to his wishes. Collectors who know Valentina were pleased that she will be continued his work. Collectors were saddened to hear of the death of St. Gielar.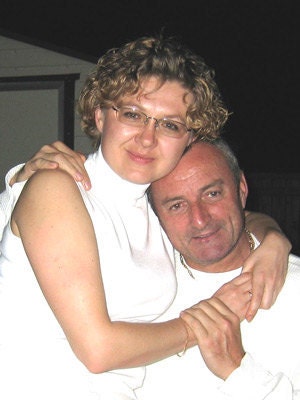 Ian St. Gielar Fondly Remembered
 Diane Fitzgerald of Beautiful Beads of Minneapolis, Minnesota said, "Ian St. Gielar was a lively, talented person full of creativity and skill in making jewelry. His designs, often bountiful floral arrangements, are joyful and exuberant. I was fortunate first to have interviewed him for an article in Beadwork magazine and later to have spent a day with him in a private class. His workshop was a dream. He worked on a large table surrounded by shelves of plastic shoeboxes brimming over with components such as beads, filigree and findings. He worked quickly and accurately with each piece tightly wired to its foundation but still exhibiting the blossoming fullness that is so characteristic of his work. He never stinted on findings layering beaded filigree petals and leaves with glass beads and finally finished with a crystal headpin for sparkle. If one owns one of Ian's pieces, cherish it. It was created by a master.   
 Kim DeWitt Paff Vintage Jewelry Dealer and Collector, of Florida also agrees. "I will treasure the custom made parure that Ian made especially for me. I admire his work and he will be greatly missed. Most people have no idea what a generous and kind person he was."   (Shown above ...Kims beautiful custom Parure featured vintage coral glass cameos Kim sent to Ian to create a One Of design parure)   
 Collector Carol Kelly agrees, "As a longtime collector of antique Bohemian glass and vintage American costume jewelry, I had no use for contemporary art until I saw jewelry designed and handcrafted by Ian St. Gielar. His masterful color combinations of tiny bits of otherwise unremarkable glass securely layered on filigree by hidden wires resulted in jewelry like no other. He took ordinary parts and created extraordinary jewelry, without drawings, simply from his creative soul to his hands. One of his "Bird-In-Nest" pins has a small faux ivory bird set in a lavish nest created with over 1500 tiny glass beads, pearls, punctuated with spikes of natural coral and mother of pearl! I have that pin on a stand among our antique glass in a cabinet but it belongs in a museum. Good Idea! In 2003 I gave a representative sample of jewels by Ian St. Gielar to my favorite repository of fabulous glass, The Corning Museum of Glass, much to the delight of the curators, Dr. Oldknow and Dr. Page, with whom I conferred. The work of Ian St. Gielar is now complete. Consider yourself lucky if you chose to buy any of his creations during his lifetime, I certainly do. Like much of his jewelry, Ian St. Gielar was one-of-a-kind, never duplicated, and he will be missed."  See the beautiful Bird in a Nest brooch below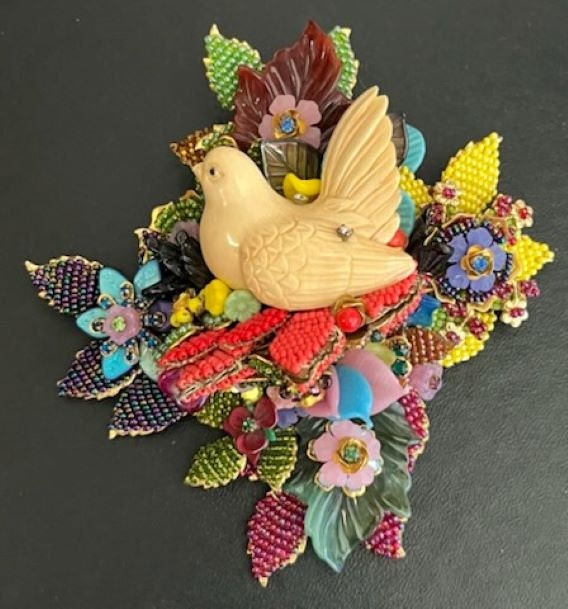 Ann M. Pitman, Author and Advanced Collector  was heartbroken over his death. "I loved Ian dearly, he was incredibly creative and his talent was boundless. We have lost someone truly special."   This custom made Black and White Parure was worn by Ann only once for her Vintage Jewelry Book signing event in Dallas.  It has remained in a display case all these years but will now be available at KimLovesVintage.com along with a few other select pieces from Ann's extensive collection.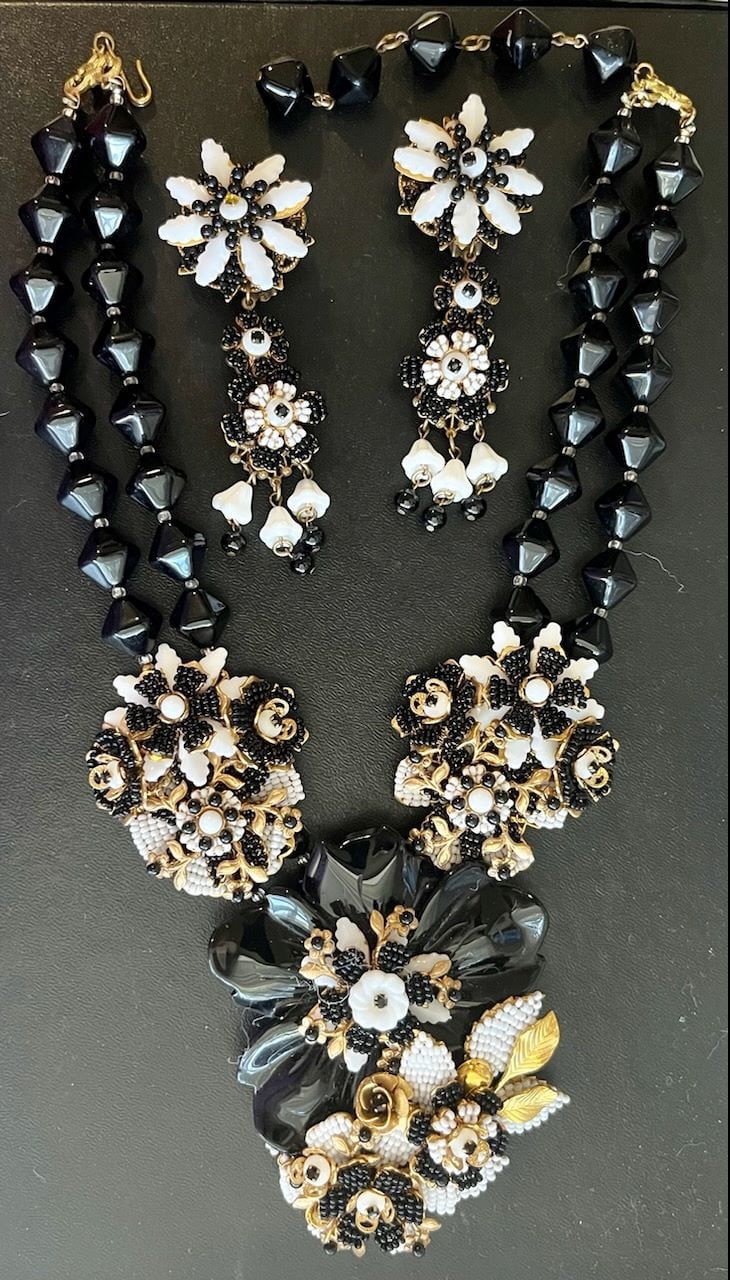 Thank You Ian for your beautiful jewelry, you have made the world a better more beautiful place.  Thank You Valentina for continuing the Hagler/Ian St. Gielar tradition. 
Thank you Ann M Pitman for providing information shared in this blog.
For more beautiful pieces of Hagler Jewelry available for purchase please visit www.KimLovesVintage.com 
20% off with coupon code HAGLER limited time offer