Diane von Fürstenberg style always turns heads.  
Her Iconic fashion style is still turnng heads after 50 years. 
DVF has a well known appreciation for statement jewelry especially bracelets and jewelry that creates noise, a special sound that only jewelry can make.  Her offbeat opulent style resulted in the design and creation of bold pieces that compliment casual fun clothing to Glamorous formal style clothing.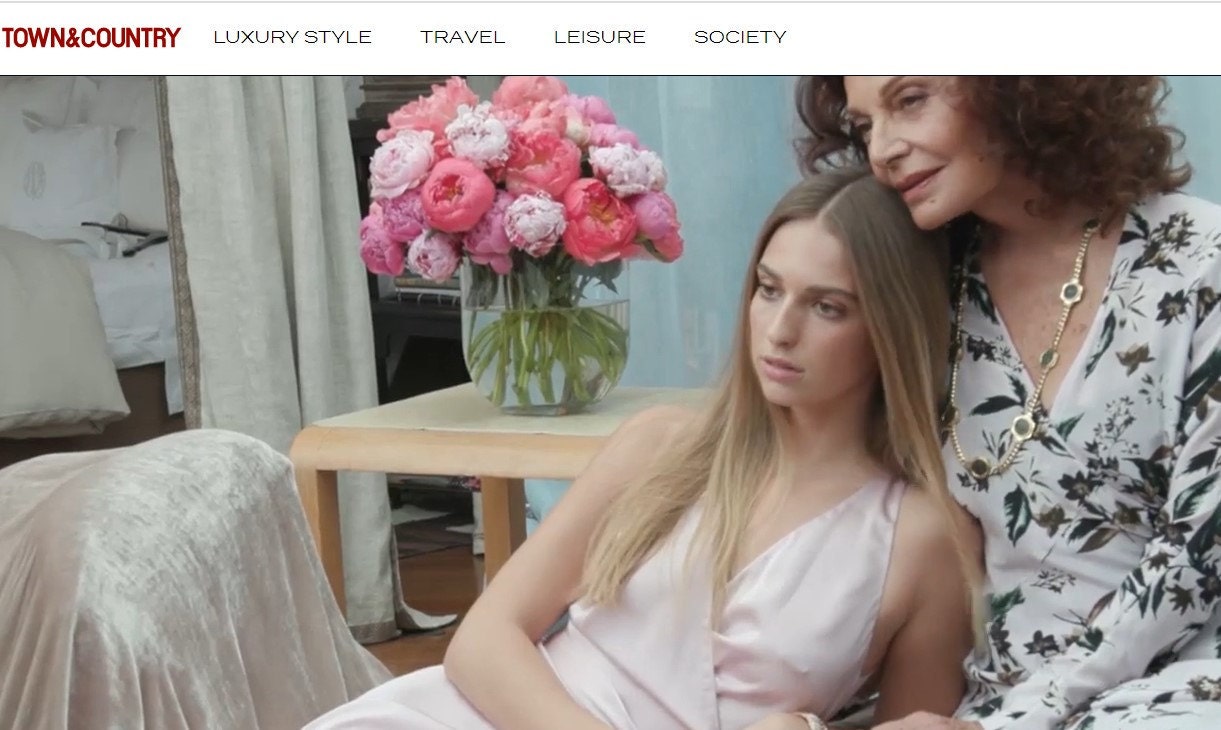 Last year I was fortunate to acquire a fabulous collection of 1970's-80's Diane Von Fürstenberg New Old Stock Boutique Jewelry,  all in Very, Very Good condition, It is stunning, Lovely for dress up or casual wear, so very versatile and Classic Style. Unbelievable to find these groupings and  matching pieces as I found in this lot. These are from a Boutique I bought in Atlanta, She was a Boutique wholesaler at Atlanta wholesale Market.  She closed her shop in the 90's and put it in storage, she was recently put in an assisted living facility and the family was liquidating her estate.
 I believe the owner kept these pieces because they were Samples. That is why many of the sets are not the same color.  Many were on original velvet boards and the tags have the original wholesale prices and descriptions of what colors were available. I purchased a large approximately 75-100 piece DVF collection. 
In the group was also a large quantity of other designer jewelry including Valentino, Lanvin, Yves Saint Laurent, Daphne NY, Tommy Woods and other great designers.  
Since the acquisition I have become a huge fan of DVF,  wow what an Inspiration she was for women of the 70's and she remains so.   See the collection, link at bottom of the blog.  The timing couldn't be more perfect, DVF is lauching a Luxury Preloved website called REWRAP selling vintage Fashion, Jewelry and Accessories.  
Currently, DVF's native city is honoring her with Woman Before Fashion, an exhibition at the Fashion & Lace Museum in Brussels that was unveiled to the public on April 21 and will remain open until January 7, 2024. Curated by Nicolas Lor, it is an homage to the designer's impactful fashion  https://www.fashionandlacemuseum.brussels/en/expos/diane-von-furstenberg-woman-before-fashion-3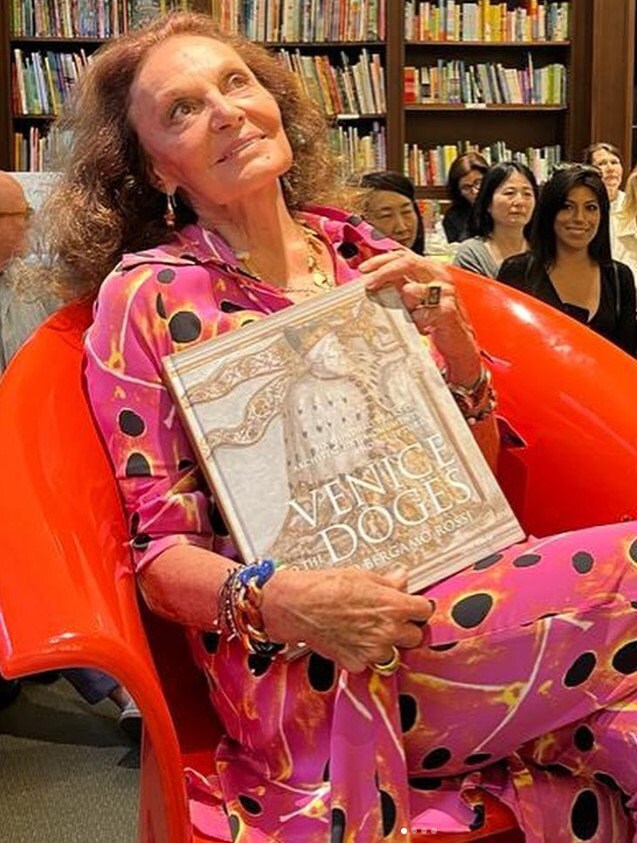 About DVF  according to PBS  "Finding Your Roots, Fashions Roots"
 Diane von Furstenberg is the founder and chairwoman of the company that bears her name. In 1974, she designed the iconic dress that would forever be remembered as a symbol of power and independence for women around the world.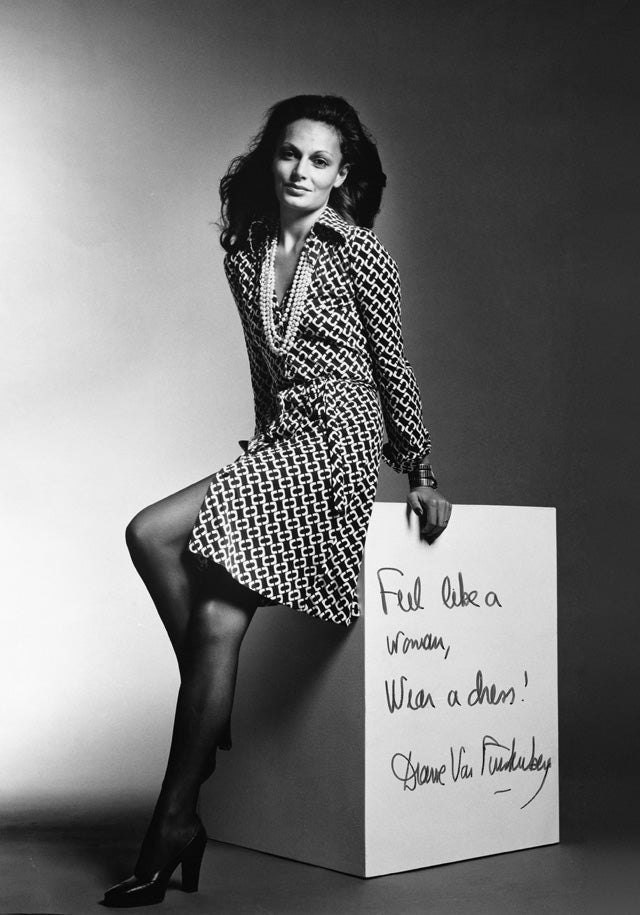 The Belgium-born designer has since built a global luxury brand that coincides with her philanthropic efforts deeming her a respected member of the fashion community as well as a social activist.Growing up in Belgium, Diane may have not known exactly what she wanted to do but she knew the woman she wanted to be; a woman In Charge. After establishing herself as such, DVF was inspired to create an InCharge manifesto encourage the practices in her own daily life be initiated by our female community to help connect, expand, inspire and advocate for one another. It is both a movement and a platform to use our connections to help all women be the women they want to be.Von Furstenberg's commitment to empowering women is also expressed through philanthropy and mentorship at both an individual and institutional level.She is committed to mentorship and for more than a decade, she has served on the board of Vital Voices, an organization that supports female leaders and entrepreneurs around the world. Most recently, Diane was awarded the 2019 Global Trailblazer Award at the Vital Voices Leadership Awards.In 2015, DVF was named Chairwoman of the CFDA, a position she held until 2019. She also serves on the board of The Shed, the new center for artistic and cultural innovation in New York City, the CFDA and the Academy Museum of Motion Pictures in Los Angeles.In 2010, with the Diller-von Furstenberg Family Foundation, she created the DVF Awards to honor and provide grants to extraordinary women who have displayed courage, strength and leadership in their commitment to their causes. Previous honorees include Anita Hill, Sonia Sotomayor and Doctor Jane Goodall. The foundation grants each honoree $50,000 for their non-profit organization in order to further their imperative work for society.In 2016, DVF joined the board of the Statue of Liberty–Ellis Island Foundation and led the effort to raise funds to build the new Statue of Liberty Museum, which opened to the public in May 2019. In addition to a book entitled The Statue of Liberty: The Monumental Dream co-written by Robert Belot and published by Rizzoli, a documentary Liberty: Mother of Exiles aired on HBO in October of 2019. The film further enlightens the public on the history of the monument and DVF's dedication in raising funds to bring the institution to life.With her corporate headquarters in New York's Meatpacking District, von Furstenberg has long been a vocal member of the community and was the largest financial contributor in the campaign to save the historic High Line railway and to develop The High Line into what it is today.In 2014, she published a memoir, The Woman I Wanted To Be, which has been translated into six languages. In 2012, DVF was named one of The World's 100 Most Powerful Women by Forbes and 2 years later, was named one of the TIME 100 Most Influential People.On September 14th, 2019 Diane von Furstenberg was inducted into the National Women's Hall of Fame alongside 10 other highly esteemed peers. The ceremony honored women whose leadership and achievements have changed the course of history.
That 70s Style
In a time of boho style, disco silhouettes, and Vivienne Westwood punk, DVF stood out with empowering, glamorously practical designs for women.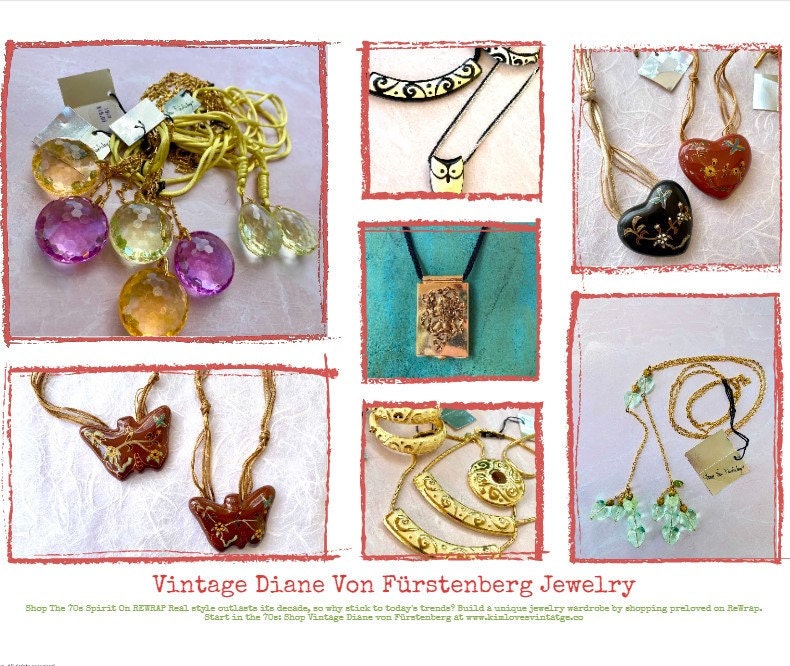 Shop The 70s Spirit On REWRAP
Real style outlasts its decade, so why stick to today's trends?
 Build a unique jewelry wardrobe by shopping preloved on ReWrap. 
Start in the 70s: Shop Vintage Diane von Fürstenberg at www.kimlovesvintage.com or shop DVF REWRAP